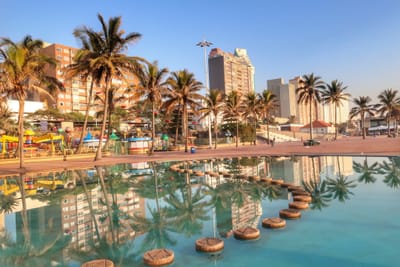 Responsive
Tri-eco Tours
is an eco company Durban based offering strong community upliftment , City cycle, Beach cycle, Canoeing, Nature walks, Bicycle lessons, Urban walk and semi-rural experiences etc. For more information email
info@tri-ecotours.co.za
Passion
Tri-eco Tours
only has guides who are passionate about uplifting community, teaching Environmental Education and offering bicycles lesson. Our trip guides are local and specialists with bicycle, nature, adventure, culture, history, heritage and eco-travel, Of whom are commited to bringing you closer to Nature and communities.
Community
Tri-eco Tours
has identified cycling as a skill that leads to a healthy lifestyle with respect to the environment and other people. Our community will benefit through bicycle tours, Township cycle tours etc, which later improve the quality of life for people without bicycle experience, educating the community, fostering self sufficiency, tourist Attraction, job creation and awareness.
Design
Tri-eco Tours
believes that through bicycle tours, as a key skill we play a role in building a peaceful, love and violence-free society. One can cycle from the township to the city therefore together we build a Green City. "Woza" means "Come"
Founder
The company was founded in 2017 by Siphiwe Rakgabale known as Sips, a young and humble emerging entrepreneur who is a Tourist guide by profession. To the company he brings his life experience and passion for Environment and tourism. He is a black South African male and the founding director of
Tri-Ecotravel &Tours (Pty) Ltd
. Please use the links below to read more about Siphiwe Rakgabale as a Guide and a Founder of
Tri-ecotours (Pty) Ltd.
https://www.zulu.org.za/tourist-guides/rakgabale-siphiwe-T529
https://www.google.com/search?newwindow=1&safe=active&sxsrf=ALeKk03YypRLpLShZCq0zH0xN5PuGUdvSQ%3A1606649972616&ei=dIjDX-CRJdyf1fAP88SfgA4&q=Siphiwe+Rakgabale&oq=Siphiwe+Rakgabale&gs_lcp=CgZwc3ktYWIQAzIECCMQJzIECCMQJ1CC2AZY198GYILlBmgAcAB4AYAB7ASIAZ4TkgEJMi0xLjEuMy4xmAEAoAEBqgEHZ3dzLXdpesABAQ&sclient=psy-ab&ved=0ahUKEwjgm5XH1aftAhXcTxUIHXPiB-AQ4dUDCAw&uact=5
https://northglennews.co.za/249245/video-donations-from-north-durban-community-lead-to-three-new-litter-booms/